The wife and I got up early Saturday morning (4:40am) to make the drive to Autobahn for the 8am driver's meeting. I arrived in time to greet Sam of Myers Motorsports and get a look at the 1991 Honda CRX SI I would be driving this weekend. The car looked clean and, well, small!
I had a short discussion with Sam about the car and all the specifics relating to shift points, types of brakes and how I could expect the car to handle. As well as a bit of advice on FWD, as I had never raced a FWD platform yet!

8:50am Practice was up first and I'd have a 1-way radio in my ear with Sam helping spot and call out times on the other end of the mic. It was of immediate help as there was a car off on lap 1 and Sam called it to me before I seen it! I took it easy for about 2-3 laps as the temps were in the 40's and the tires needed temp. I started dropping about 2 seconds a lap and ended with a 1:41.3 I believe and Sam seemed pretty satisfied with that. After I heard the other PTE cars were in the 1:40-1:41 range I felt pretty damn good. To be nearly at-speed after 15min in a car I'd never even seen before was pretty sweet. The only issue happened when I flipped on the fan in the pits and it grounded itself out and created some pretty hanous smelling smoke.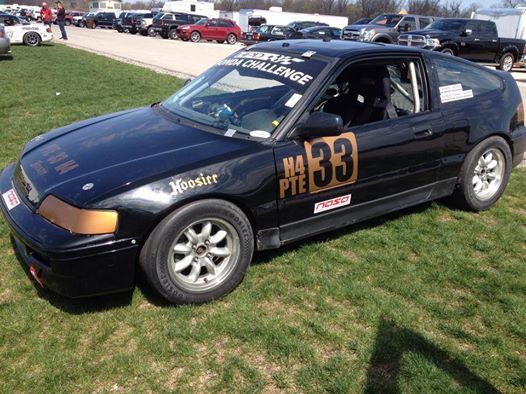 10:30am Qualifying was up next. Sam had fixed the wiring issue; no real setup changes as I really liked the balance of the car. I hit it pretty hard right away and seen a 1:39.8 pop-up. I pushed hard 1 more lap (Sam radio'd the white flag was out) and the in-car timer said I had a absolute flyer going; .4 better... until I hosed up a turn and dropped 2 tires off. Lap ruined! However my time would hold for P2 out of 7 in class; which meant the front row!
1:25pm was the Lightning race. 36 cars in total; starting in 3 waves. My class (PTE) would be the 3rd and final wave, consisting of 9 cars; 7 in my PTE class and 2 Honda Challenge cars. I had only been in 1 standing start before, and they are difficult especially in a car you've never tried to 'launch' before! I got a decent launch, but we were quickly 4-wide into turn 1, and I was dodging a spinning car by T3 in route to one hell of a race. Video is below; I'll let it speak for itself.
After falling back to 5th at the start I worked my way back to 2nd before I spun. My best lap was a 1:39.154 which broke the track record! That is until a fellow competitor put down a 1:39.135 about 6 laps later stealing away the PTE track record!
I have to give a huge thanks to Sam & Myers Motorsports for providing a front-row capable car!