I took off for Kansas around 2:45pm Friday afternoon. The majority of the trip is W through Missouri via a 4-lane divided highway with a 65mph limit - and this featured about 4 different pop-up showers, several of them with heave downpour! All-in-all I made the 371 mile trip is just over 5 hours. I headed straight to a local Restuarant/Brewery that I'd visited before for drinks and some very tasty dry-rubbed ribs!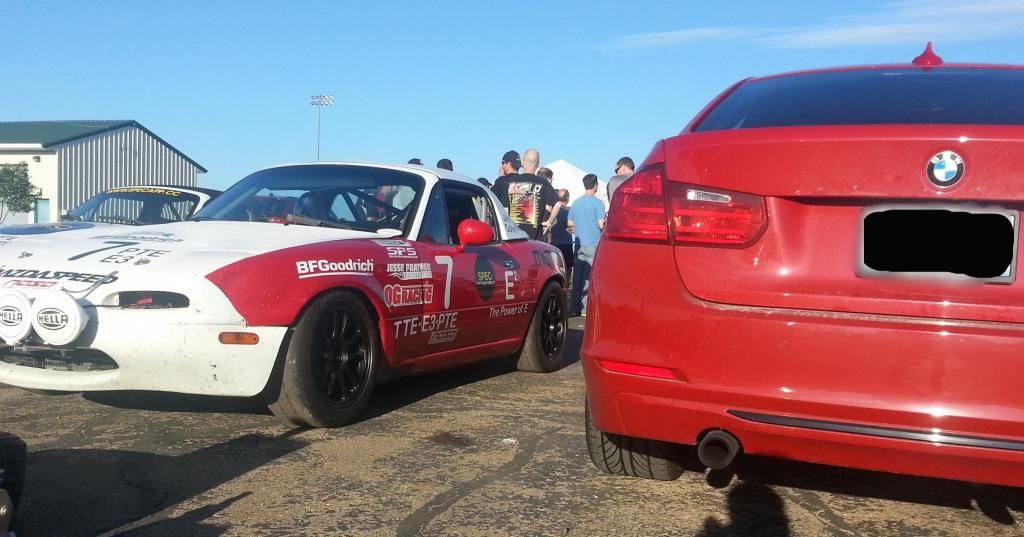 Saturday I arrived at the track and found the #7 red/white Miata there needing some final prep before the 8:40am warmups. I also found the #18 white Miata right next to it that I'd be co-driving later that night on the 2.5 hr Enduro! Yes; this was going to be a busy day as I'd be running the sprint race, and co-driving both cars in the evening Enduro - 2 cars in the same 2.5hr race with a 10min rest between!
Warmups went fine on the 2.2 mile config, the first time I'd driven it. My lap of
1:41.9
was actually the best in our class; kinda shocking me. Alltogether, this was only my 3rd time to HPT but I'd never driving anything besides the 2.5 mile 'Grand Course', so this was neat. The car seemed to rotate a bit better in the slower turns than before and I'd be sharing the car and my feedback with Cris throughout the day as we both worked to help eachother out (he was running in the different TTE Time Trials group).
The 10:20am Quals went pretty well for me I thought. The car felt good, but the laptime didn't improve as much as I had thought. My best was a
1:40.849
placing me in 3rd; with 2-3-4 separated by just .045! Shortly after, Cris put down a better laptime in his 11pm session and as such we talked through some lines and track positioning as he is much more familiar with the track.
The 35min sprint race was scheduled for 2:40pm and by then it was crazy hot. On the start I had trouble shifting from 2-3 which is a real issue with this car as the 3rd gear synchro is going. That shuffled me back a few spots right off the back. The front 3 pulled away with the front 2 checking out completely. I duked it out with a Fiero several laps for 4th. I finally got around him and had set off to chase the leaders when a Porsche spun on the backstraight in front of me and I had to check way up - which caused me to lose about 4 spots. Now I had to battle to get all of those positions back over the next several laps. I did, but as soon as I got back into 4th the car became difficult to shift into any gear. It eventually locked itself into 3rd and I pulled off after 12 laps (race went 17 laps total) with a mechanical DNF.
Obviously I was bummed. This meant the dual-car Enduro wasn't going to happen later that day either. However, the owner had access to a used gearbox on site and set about finding some workers to swap them out. We quickly got word that they belived they could do the swap and have the car ready just before the 6:15pm start of the Enduro - barely 3 hrs away. As such, we planned accordingly to prep the #7 as soon as it would be available. The plan was for me to finish the race in the #7.
Likewise, I helped the owner of the the #18 Miata out with prepwork for the Enduro as I would be starting his car and finishing the #18. Yep; 2 cars in the same 2.5hr race! Bold, but I really wanted to try it. Stay tuned....