I wanted to give a quick shout-out to AMSOIL for their help this year. I've been partnering with AMSOIL since 2009 and it's been a great experience. I previously had been running their 'Dominator' Racing branded 10w30 oil. However, earlier this year I started to have some bearing wear discovered by the oil analysis reports I send in to an independent 3rd party. This is probably from a combination of the higher power output, higher revs, and resulting higher temps in this year's full TTA buildup. Whereas 2009-2010 I'd see 250-265 temps with some higher peaks with extended lapping, I'm seeing lots of 280-290 temps this year.
At about the same time I got the oil analysis report back, I started working with a new rep; Scott. Scott immediately suggested that we try a run of thicker 15w50 AMSOIL and watch the temps/pressures even closer. We ran that oil at the July Mid Ohio event where I seen temps peak and hold at 280 every session. We sent in a sample for analysis and the report can back much better. The bearing wear was much lower; presumably from the thicker oil protecting better under those high temps.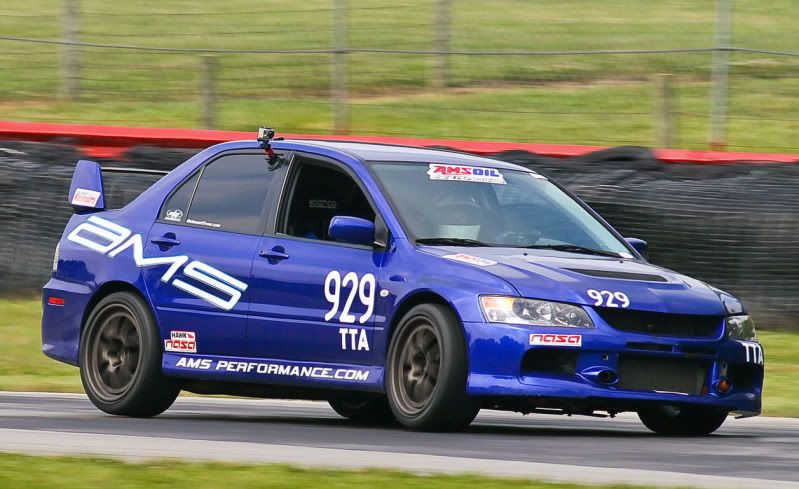 So, I had Scott send me a case of AMSOIL 'Dominator' 15w50 this week as we'll be running that the rest of the year. Hopefully everything will stay protected and safe. The car now has about 24,500 miles and 75 track days on it including 14 so far in 2011.
I run very very few stickers on my car. And AMSOIL is one of them for a good reason. If you want to get ahold of Scott, email him at:
fixem2@gmail.com