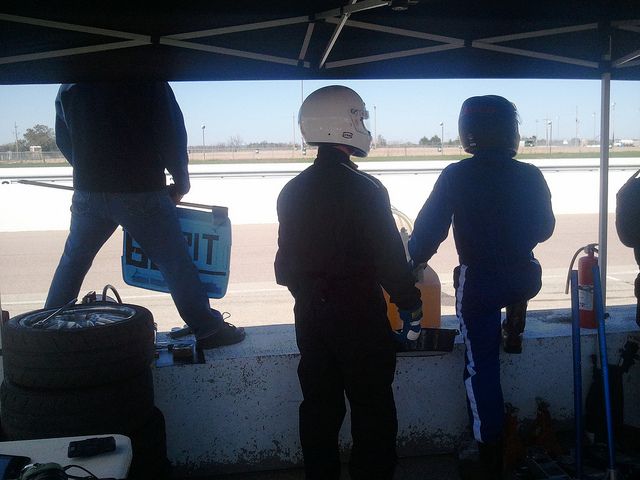 Around 1pm I went over the pitwall and into the car! We had recently came in to fix the reoccurring fuel pickup issue and topped the car off, so we didn't need gas. I was held at pit-out for our mandatory 2min timeframe and I was away! I quickly realized the car was not 100%. The vibration issue driver #2 complained about was really bad under braking and off-throttle. Really bad; violently shaking the steering wheel actually. I did was I could to learn to drive around it and tried to get my bearings on track.
The competition... I nearly got ran off the track 3 times in the first 20min (of my 2hr session). Twice because the driver I was overtaking had no track awareness and the other time because I was severely brake-checked as the other driver apparently had no idea what speed to take T1. And I was giving a LOT of room up to that point. After that I pretty much made all my passes setup coming out of turns on the straights to avoid issues. Never got a point-by even once - although I gave tons of them to other cars I knew were faster. Driver skill was an issue; which I knew it would be to a degree. But this was the 'Chumpionship' so it was supposed to be a much higher level - therefore I'm afraid of a regular regional event. The other 3 drivers on our team never mentioned an issue like this at all so either it's normal or they drive the same way! lol.
About that time there was a spectacularly awesome blow-up on the main straight that brought out the Yellows are awhile. I was about 5 car-lengths behind the car and seen the hole thing happen! Lots of fluids to be cleaned up. Once that was finally cleared, I found myself in a nice little niche with open track for the most part and started banging out laps. I had learned to deal with the severe braking shudder and just enjoyed my time. About 2/3's of the way into my stint I started having partial-throttle issues which I learned was the fuel pickup/foam issue. A quick roll into the pits fixed that and I was back out to finish the rest of my stint with no drama (except for some continued horrible track awareness from others). I later turned over the car in the same condition I got it - aka NO damage - to driver #4 to finish out Day #1....