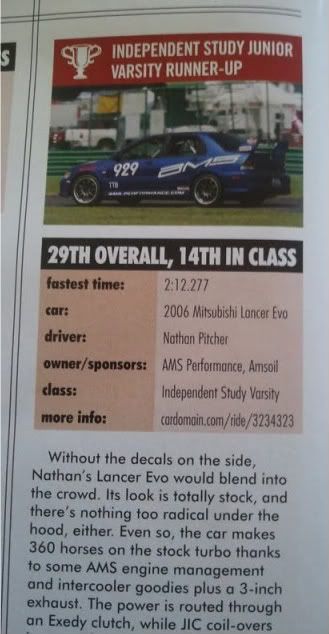 The November 2010 issue of GRM is out! The cover story is the UTCC (Ultimate Track Car Challenge) held again this year at VIR. The UTCC is an invitation only event and I jumped at the opportunity. I set out on the 900 mile trek alone to a brand new track and it was an amazing adventure.
6 days and 2100 miles later I came home with a best lap of 2:11.098 and a new tow truck (the other literally died on the way out). The car performed flawlessly over 200+ miles of excruciating 99-103 degree days with tons of humidity. VIR instantly became my favorite track with my lap speeds reaching 140+ on both the front & back straights, and about 120mph at the entrance to the climbing esses.
My class included lots of 500-600hp Vipers, Vettes, Porsches, Mustangs, etc as their classing system was relatively simple and unlimited. In the end I finished 14th in class but I didn't go for the results, I went for the experience and it was insane!