I had big plans for this weekend. I know Autobahn pretty well and I planned to test 2 different configs in 2 days - weather dependent...
We drove up Friday night after work. And by 'WE' I mean myself, my wife (married 6 months ago) and our 3 yr old puppy. It's about 3hrs to Autobahn up by Chicago, IL. The plan was to camp out Fri & Sat at the track. With Severe Weather Wa
rnings and Tornado warnings just behind us, we trekked the 3 hrs N to Joliet, IL and setup the tent in 30+ mph winds...fun. It was the start of a cold, windy and rainy night!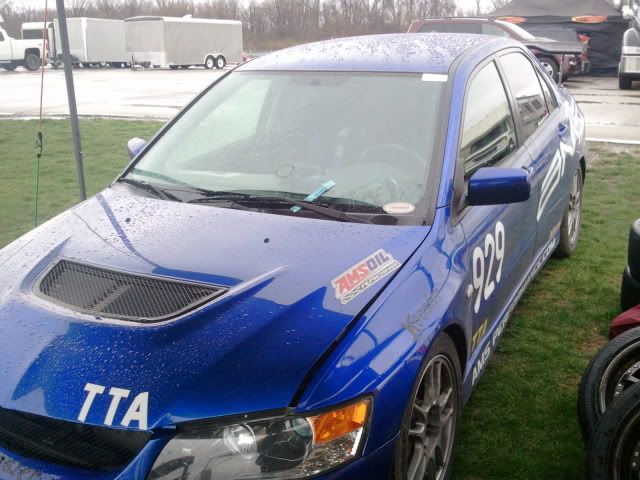 Saturday we get up, cold and dry at least. The forecast was for rain most of the day; maybe clearing up late afternoon...maybe. Having the Dunlops mounted I head out for several drift-athons and have fun. I'm at the front of the entire TT pack; but with street tires and AWD and some nerve; it's not all the difficult. The rain broke around noon; just in time for the lunchbreak so we ate in just wind (no rain). TT was first up after that and I literally had 1/2 a lap of no rain before it kicked back up. At this point I had a best lap of 2:03x - still the top of TT but nothing fantastic. I think I ran a 1:57 last year at the Redline Time Attack event in a downpour so I wasn't killing myself out there.
We had 2 sessions left in the late afternoon yet. Checking the radar there was a small break so I decided to mount up the newest Hoosiers (I carried 2 sets in). I figure I'm already in the lead with the rain setup; might as well prep for possible dry conditions right! While I'm loosening lugnuts the rain comes; then the sleet; then the snow. No joke; right about 2:30pm. Keep in mind NASA does not shut down for this and there's a race going on during this crap!
Once again checking the radar and forecast we see nothing better for the next few hours. We also see Sat night dipping into the high 30's so I say screw camping and we book a hotel! The time for our 4th session comes and being it's still raining and I now have slicks mounted I skip it. No change for the 5th session so I painfully skip it and we head for the hotel and a warm shower.
My time held up for
1st in class
as well as
first overall in TT
! Thanks to AMS Performance for a tune that works in a broad range of temps and weather and Shep Racing for an awesome tossable rear diff! Unfortunately we did NOT get to test what was planned, but we still were able to secure 1st place and FTD in TT altogether!