After 7.5 hrs and 466 miles (over 2 days) I pulled into Mid Ohio very early Friday morning. I ran the testday mostly in the rain; we were running the
Club Course
all weekend. My best lap of 2:10 in the rain and a
1:55
in the last session when the track was a bit drier. Knowing the class leading times would be nearly 20 seconds faster over the weekend...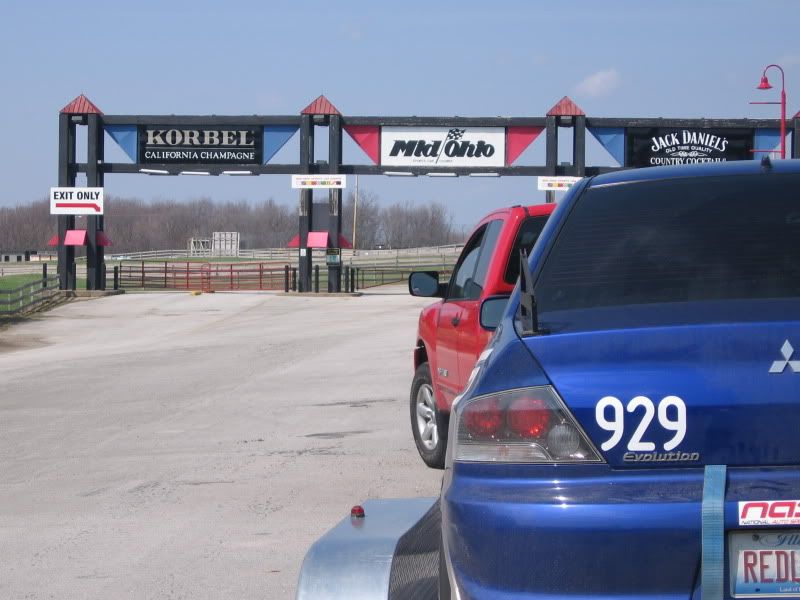 Saturday
morning at Mid Ohio was foggy and a bit cold - but worlds better than the Friday testday that was full of rain and 48 degrees for a high. In S2 I had a 1:42 on my first hot lap just as things were warming up. But on lap #2 I went wide into T8 and spun it. Fortunatley I stayed on track and nothing was damaged. With NASA you lose your times if you spin or go offtrack, so I had no official time at this point.
We had a decent break over lunch and we decided to change the AoA on the ARP wing I was running. Here's where things went wrong... Not sure if it was hosed before or during our adjustment attempt but we had the adjustable rod screw break off inside the nut. We tried drilling it, pounding a hammer into it, pounding a screw into it, using vicegrips to turn the hammer/screwdriver - nothing. It was hosed. I did have a close neighbor (Mark; aka Brad) with a sweet ITR and the same wing! He agreed to let me borrow the supports when our schedules worked out. So we had a plan! But first was S3 and I had no time to switch the mounts so I figured I'd do some 'testing' as to running wingless! Let's just say the car was a bit loose! Braking down the backstraight from 140+ was very loose and any corner entry was loose. So I adopted the brake - get back on the gas - then turn in - method and pulled a 1:43.
S4 & S5 I was able to switch in the borrowed mounts and run with the wing! simply used whatever angle Mark had which was a lower flatter angle and what I was planning on switching mine to anyway. And the track was pretty much dried out except for a few key spots (namely T1 under the bridge). I mounted up the stickered Hoosiers and tossed down a 1:39.9 and climbed into 2nd; sandwiched between 2 Corvettes. I reset the tire pressures for S5 and put down a
1:38.8 taking 1st for the day
and just .4 off the track record.
Sunday results to come...