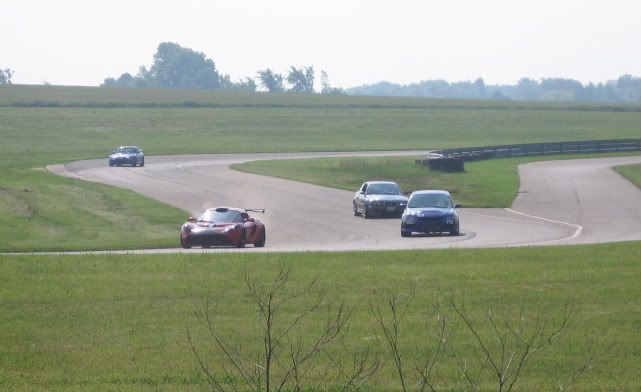 After driving up late Friday night (~6 hrs), got up Saturday, unloaded all the remaining crap inside the car, unloaded the car and did a little prep. This was the first time the car had been off the trailer since being loaded at Putnam Park May 15th! Only changes were a quick wash and I had installed a Kognition rear wing on the car since!
With the new wing set at the lowest possible angle, I lined up and ran a 1:43 for the practice session which put me #3 in grid for the entire TT group. Always strive to be in the first couple spots so I can get some clean laps right away!
For S2 (the first timed session) I was lined up behind the current TTA track record holder; what else but a C5 Vette! We did 3 laps hard laps and I could gain on him in a few spots, but he'd pull away in a few spots too. My best was a 1:40.0 - while his transponder didn't register. Sucks... as we had to be close!
For session #3 I made my 1st wing adjustment and fired a
1:39.3
which broke the
track record for TTA
! The car felt more planted and I liked it! Session #4 was at 2pm and it was starting to get pretty heated up. I made another adjustment and thought the car pushed a bit. Best was a 1:40x. Session #5 was at 3:40pm; hot hot hot. I backed the wing off 1 step and ran another 1:39x but not better than before as track conditions were degrading quickly.
The car was also sorta hopping in low speed turns under hard throttle. It did this a bit last year in 3rd gear corners, I assumed because the turbo comes on so quickly there. With the new 2011 alignment it's been better, but apparently it's back! I can drive around it, but it's not ideal so I hope to be making some adjustments down the road....
My
1:39.3
stood for
1st out of 6 in TTA
. I also ended up with FTD of the entire TT group! It was pushed hard all day through 5 sessions, high revs, high oil temps, high boost, etc and responded with flying colors. Thanks as always to AMS Performance for a truely terrific tune!
Here's vid from the last session, looking backwards under the new Kognition wing; enjoy in HD!