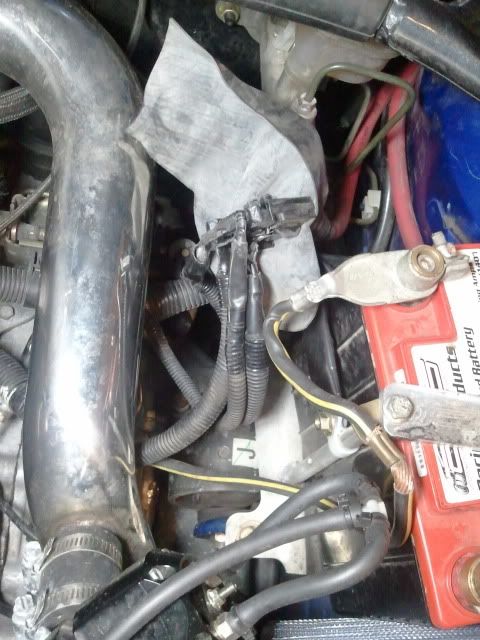 With some suggestions from friends, I went back to the Evo with some new testing ideas.
I turned the Master Switch on and started up the car and repeated this test 3 times. The test was checking the lead terminal on the alternator for a reading. Got a reading of like 1.3 - 1.6 on the alternator each time. Battery still reading about 11.4 after all this. Only had it running for a few seconds each time. This tells me the Alternator is trying to pump out something...
Dug into the fuse mass that my cagebuilder relocated off the battery. Check out the closeup of the bottom one. First is the 5 wires and the fuses that the shop all wrapped up into a rubber protectant and relocated a bit. The 2nd is a closeup of the fuses; check out the bottom one (I twisted it sideways for the pic below).
Obviously there's an issue here and a replacement is needed. I am in the process of deciding whether to put a stock replacement in there or replace with some custom. And after that is corrected, I'm wondering if that'll take care of the issue or if there's another Gremlin hiding somewhere!
Scheduled to be on-track again this weekend at Autobahn. So Friday will be the day to fix it! I've got an appt scheduled for that and some additional maintenance - it's going to be a busy Friday with me sharing a Porsche 944 in a 3hr Enduro too!