I have secured a car for the NASA Midwest & Great Lakes Crossover event at Putnam next weekend. I'll be racing the #20 1994 Ford Mustang in class CMC; Camaro Mustang Challenge. The car is classed at ~265hp @ 3200lbs running on a spec Toyo tire. Should be a lot of fun! It's also an American V8, so the power band should be strong - I just hope I can get it to take turns! In comparison with my Evo which ran a stickier Hoosier tire, it makes about 100whp less with similar weight.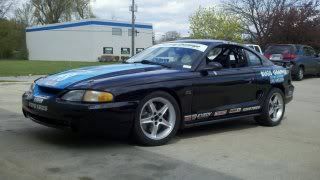 Altogether there are 10 entries in the class I'll be running in; which is a crazy high amount for a regional event! There should be some great in-class racing which is always a treat. I'll be racing in the same rungroup (Thunder) as I've ran a few times in the past which is about 1/2 full of America V8's and the faster ST cars which are power/weight only with unrestricted aero and unrestricted tires.
Putnam is a fun track and imo, favors mometum cars moreso than outright HP. It's also pretty tight everywhere, with nothing overly wide except for the main straight. Should be fun; more details to come!