David from Buschur Racing notified me Wednesday the car was ready to go. So after checking the weather forecast, I left after work Thursday for the 1000 mile roundtrip.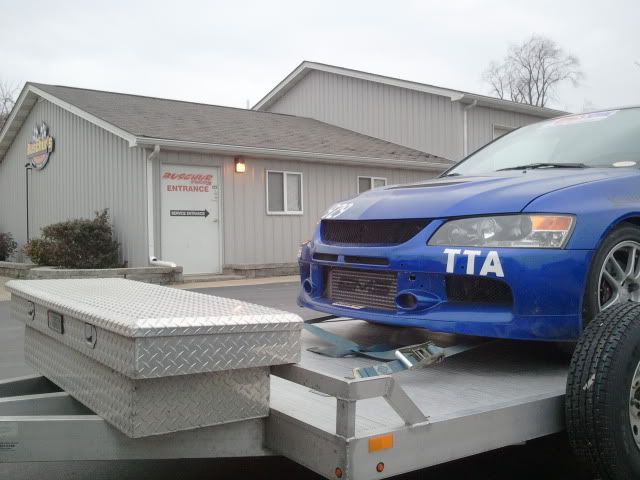 Thursday 2/9/12
Took off after work to get the car. Drove about 5hrs and stopped for the night. Nothing special (thankfully). Watched some B-Ball and got the weather forecast for the next day which was some lake effect snow.
Friday 2/10/12
Got up at
5:45am ET
, showered, coffee & muffin and on my way. Got to Buschur's about 10am ET. I believe the total from work was 7:15 and 470 miles. Only person I knew was David so I met everyone slowly, grabbed my trailer; loaded up the car and got my dyno sheets after talking with David for a bit.
About
11am ET
I was packed up and on my way. I decided to take a different direction home - avoid lake-effect snow, avoid the tollroads with the trailer and get some new scenery to hopefully help keep me awake. I was also curious it the overall time was comparable. The crappy part was the first hour or so was all 2-lane. I did drive past the Mansfield prison (aka Shawshank) which I was lucky enough to tour during NASA Nationals last fall. Shortly after that I hit the interstate and after my GPS re-calced it told me about 15min longer this direction which I was fine with.
12:30pm ET
- stop for gas, food - and it started to snow! Great. It wasn't collecting but it was sure causing some visibility issues. Snow came and went really.
Crossing into Indiana the weather cleared up; then got worse towards dusk. Had some sleet for a bit but really no ice which I was more worried about.
I passed through Indy about 4pm ET - fortunately traffic wasn't too bad. The bypass was busy but the weather wasn't bad at this point so that was good. This is about the half-way point for me.
Had a fuel stop just before Indy, so a restroom stop afterwards along with some much needed water (bought a gallon; drank half) to try and cancel out all the soda I'd drank all day to stay alert was in order. Started getting dark as I got back to IL and the weather got crappy again. My last stop was a rest area around 6pm CT and you can see the fun below. The last 1.5 hrs there was a 28mph headwind that actually made it difficult to maintain speed! I seen my mpg drop about 1.5-2 mpg just in this stretch alone!
I got home just before 7pm CT. Exhausted and very hungry. Total trip counter below. Just over 7hrs there - much faster with no trailor! The truck also crossed over 30,000; only 1.5 yrs old too