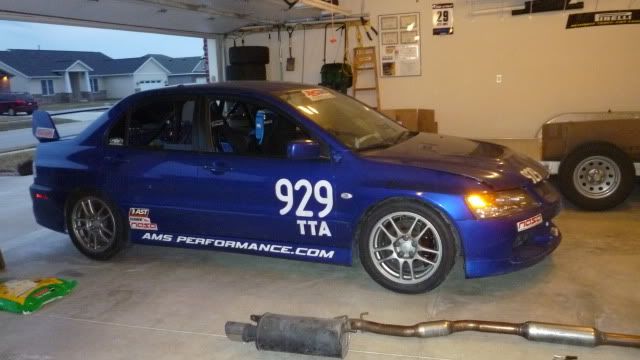 Now that I've got the car back, things need to start moving pretty fast. I had the car teched last week, so it's got it's annual tech inspection for NASA TT (no waiting in line; ever). This week I was able to finally get it off the trailer and parked in the garage where I can begin the needed work. The pic
(right)
is from Monday in my garage. I've got a pretty long list of annual maintenance items including the brakes, semi-annual fluids, aero work, interior work, etc.
Last night I got the car up on jackstands, pulled the tires off, pulled the rotors off and pulled the calipers off. New parts going back in! I've done this stuff enough I have all the needed tools & wrenches memorized (is that sad?). I'll toss in some comparison pics below. First is the calipers I have been running compared to a slightly used (non-tracked) set I picked up that will be going back on. I'll then redo all the seals in the older set, clean them up and keep them around for spares. Thus is the circle of life!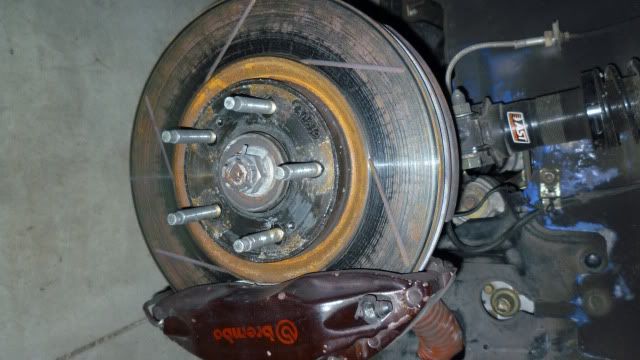 Going back on are PowerSlot Cryo treated slotted and directionally veined front rotors. Whew. These are produced by stoptech and I've used them for awhile, although this is my first go-round with the Cryo treatment. I'm hoping the little extra scratch helps them last longer. I think I went through 3 sets of rotors last year.
Also on the slate are dropping in new Hawk DTC-60's brake pads and a full fluid flush with AMSOIL DOT4. Probably by next week.