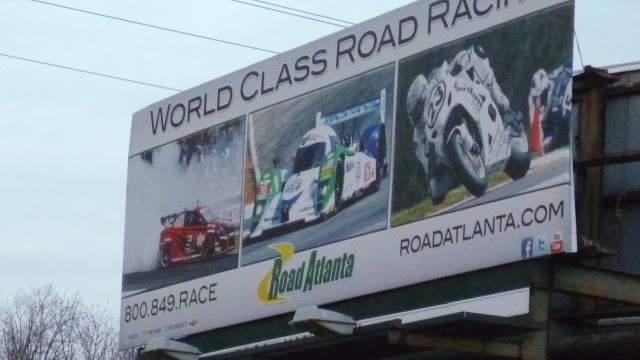 The day started with a 7am meeting. The TT group was first out at 8am. I went out on street tires with a goal to learn the track, stay out of the way of the locals, and try to set a fast enough time to stay towards the front of the grid.
The track was... pretty fun. Nothing too crazy. I was motoring down the backstraight and glanced down to see the odo approaching 140 really quick. Damn! Got past that; through the 'S' curve and then I went under the bridge and down the hill into T12. Holy sh1t; it was like the Log Ride - seemed like it was straight down. This was going to take some getting used to...
For S2 - I went back out on the street tires again. I was picking up the track, but definitely coasting down the latter part of the backstraight and down 12 (the huge hill) I netted a
1:39 still on street tires
! I was actually pretty proud of that.
For S3 - I bolted on the Hoosier R6's. 2 were new; the other 2 were used so I'd need to scrub everything in. I tried to keep my track positioning in the first 2 laps and control the inevitable skids - which was fun. After a 1:37 I reset my tire pressures and was ready for S4 to hammer it.
S4 - Traffic! By now I was working my way through some of the TTS cars that are 1 class above me and run more HP. I'd catch them in the first part of the track but they could pull away down the long backstraight and down the big hill in T12. Track positioning is definitely important for a flying lap in TT. Best of 1:36.5.
S5 - I was up to 7th on grid by now, but as not everyone went out I was actually 3rd. This proved to be my best track position and allowed me to hammer w/o having to worry about navigating any traffic in front or behind. I had my best laps of the day; with the overall best of
1:34.8
that netted my
1st place
out of 3 in my class of
TTA
and 5th out of 38 overall in TT.
The day turned out great, the Evo made it through it's first track event of 2012 with flying colors, which included a new tune by Buschur Racing. No problems over the ~100 miles on track including a top speed of
149.87 mph
on the backstraight and around 130 on the front!
So I quickly rotated the tires and checked the car over before Then off to the NASA awards ceremony just off the main straight. Above is a good vid from Session #2 looking backwards to demonstrate some of the elevation changes at this track. Enjoy!