Thursday night I headed the 2 hours SE to my pick up my Dad who would be my co-pilot for this trip. We figured this out on Tuesday night, so sort of a last minute thing but I was grateful for the company even if it did add about an hour of driving each way.
We left his house about 6:15am CT. Plan was to drive to Road Atlanta; stopping when we needed - no rush - and unload the car at the track that evening. Then a decent meal. I was thinking around 10 hours plus the time change.
An early gas stop - the truck drinks E85 towing and we were on the interstate shortly. Next stop is a spot I like to stop when whenever we're headed to Kentucky Lake - as it's one of the last spots to buy liquor! A bathroom stop and topoff the tank in Metropolis, IL!
Next stop was food. Arby's was the choice. Just across the road was an oddly named gas station though. I honestly don't get it: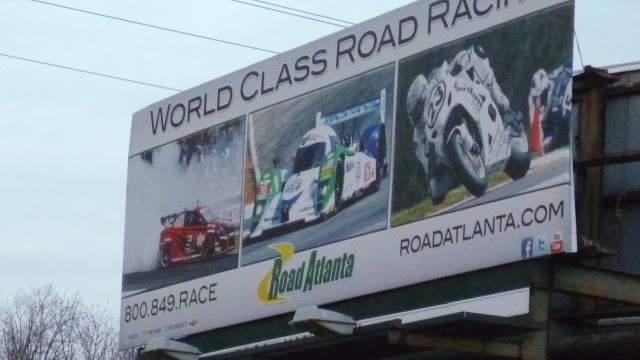 The next stretch through Tennessee was the fun stuff. Hills. We had a couple miles of 6% downhill grades. I had the truck in 3rd gear and had to occasionally brake to keep the speed safe. Traffic wasn't too bad here - and I've probably logged near 25k with this trailer so everything went smoothly.
After that my Dad took over for what would be the final stretch from Chattanooga around 3pm and into Atlanta dreadfully right around 5:15pm ET. Needless to say traffic was horrid and we lost about an hour going 0-20mph.
And around dusk; finally Road Atlanta! I unloaded and unpacked the car as the sun had already set. I found someone to get my 2012 tech sticker (no more tech for 2012!) and we found some BBQ and beer.