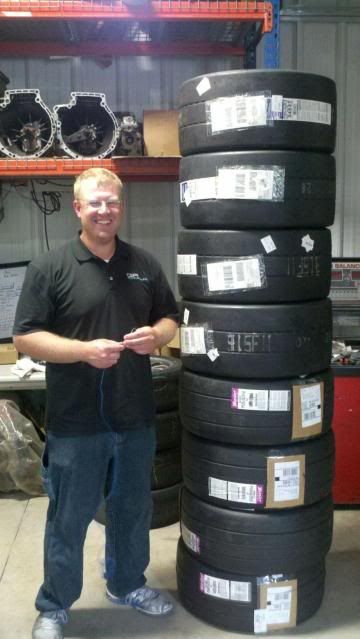 Finally - new rubber!
Recently got some new rubber to be mounted up for this weekend's event at Mid Ohio. Going to try out the BFG R1 tire, both because they're cheaper than Hoosier and they're race contingency is a lot better (Hoosier upped the min starters to 5 this year). The only downside is in the NASA PTx/TTx classing system they actually are counted as a higher pt tire; taking more
'pts'
to run them and less to prep the rest of car. Nevertheless, we're giving them a shot!
Since my car is at
GP Racing
between events, I had everything shipped there for mounting. Check out the pic with Ryan being probably forced to be the photo model here!
Now let's just hope they fit with minimal rubbing/scraping as they seem to be helli-wide... They'll be mounted up and running on the car all weekend!