So now that the #929Evo has a full race weekend under it's belt, it's time to charge forward with an updated plan! While the plan last weekend at Gingerman was just to survive, learn, and burn up the rest of the 2011 leftover tires, it's time to take all that knowledge and make the appropriate updates to charge forward.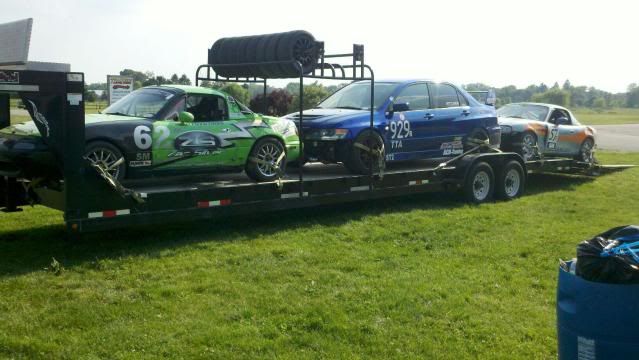 Thanks to a new partnership with
GP Racing Products
, the #929Evo is going to get some much needed updates. If you recall the name, when I ran the Enduro at Putnam I rented from Jason & Ryan of GP Racing. They're pretty much a 3-person shop that currently support 3 top running Spec Miata's with another that's currently for sale that they rent out. In addition Jason used to be an Evo owner so there's some additional familiarity right there.
All in all, there's just some things you can't do without a
'proper'
race preparation shop - and that's where the partnership with GP Racing came from. In addition, GP Racing offered to take my Evo home with them directly from the track and we'd work out a timeframe for me to retrieve it; with the option of delivering it back to an upcoming track event! This option made a world of difference being they're located just outside of Milwaukee, WI which is a solid 5 hr drive.
Included in the list of work on the #929Evo, most notably is the fact that since the 140 lb cage install we've yet to put the car back on the scales for a corner balance! We've also been w/o a working boost gauge since the cage install, which has been annoying if nothing else. Also since the Putnam event in May when the rear exhaust hanger weld broke, we've been using wire and supporting zip ties to hold everything in place (which has worked great actually). Add some tire mounting, a host of other small items and phase II of the brake cooling upgrade project and GP Racing is really going to fine tune some issues on the car.
We're also striving to pull as much weight off the front end as possible prior to the corner-balance. I think I've got nearly 31 lbs coming off the front. In all, for our PTA legal post-race weight of 3263 lbs, we could be adding around 85 lbs of ballast to the car - definitely not in the front!