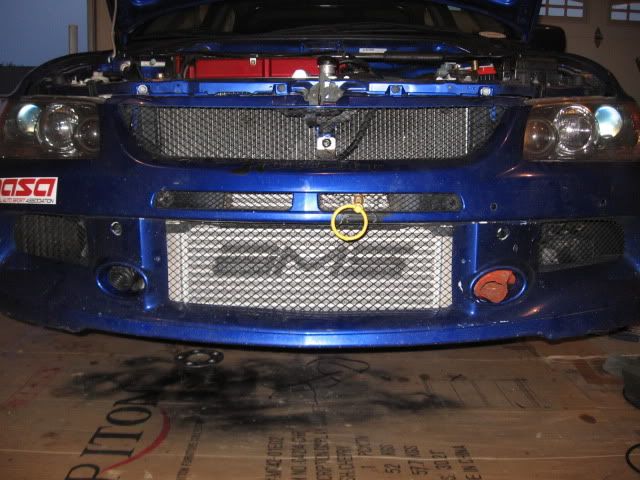 After running March-April in
'Config #1'
(look at May 10th entry for details) I was ready for further testing. I showed up at my May Putnam event in
'Config #2'
. I removed the front APR splitter and bolted my sweet AMS FMIC back on. I was actually expecting another package, but the vendor somehow misunderstood my next event date which I think is completely BullShit myself as I stated it several times. Anyways...
Weight wise, this is pretty much a trade. Both configs have nearly the same weight hanging out over the front of the car; equally crappy but that's how it goes. I didn't expect too much of a difference as my thoughts were the front splitter wasn't installed at the ideal angle given the NASA rules I have to contend with - and the rear APR wing wasn't really huge or anything.
Track Testing!
I had ran a 1:19.5 at Putnam back in March using
'Config #1'
on street tires and pump gas. My previous best there was a 1:17.0 last fall in TTA form on old tires; stock aero, a tune from 2008, etc. Meaning not ideal.
I ran a 1:18.0 in the warmup session and was happy with that. I did cord a tire; which I knew could be a problem at Putnam as it's a track that calls for a LOT of camber. Like -4 in the LF perhaps! But no changes for me, so I'd have to deal with it. 1:16.7 in S2 which set a new track record for TTA! Through the first 2 sessions the car felt a bit pushy in off-camber corners. This is normal, and off-camber corners are a-plenty at Putnam. I wasn't 100% happy with how the car felt as I didn't push it as hard as I wanted. I felt some changes needed to be made. But again; (as my suspension guy tells me) Mid Ohio is the goal for setup perfection; not Putnam.
For S3 I bolted up new tread and fired a 1:15.7 which was my best of the weekend (and new TTA track record).
So is
'Config #2'
a winner? I'm not sure.
Putnam is a bit of a wildcard - although it does have a nice log straight where I reach 132mph; over 95mph in 6 spots. Mid Ohio I topped out at 143mph (over 108mph 4 times).
I'm still debating the 'config' thing......I think
'Config #2'
needs more testing!