Headed to Putnam Park this weekend for a NASA MW/GL crossover event that has been sold out for a few weeks. After a very long week at work, I got to the track about 8am (ET) local. I knew that I had to install that new exhaust clamp that I have overnighted - and that was finished w/o drama - all good. The forecast was about 50% chance of showers throughout the day but it was holding off to this point. So, I had about 40 minutes till our 1st session, and decided to change tires and put on the Hoosiers.
Went out for the practice session, ran a 1:18.0 cautiously. I had to break in new brake seals, pads & rotors! The car pulled right a few times under braking, the wheel vibrated hard a few times, but I just kept driving through it. In the end, I had corded the LF tire. Not the first time... and Putnam is horribly hard on the RF.
With only 45min till the next session, and my 2nd set of rims still waiting to have new tread mounted up, I decided to take a chance and rotate that corded tire to the RR and try to get just 1-2 laps in the next session. Knowing the rain was on the horizon at any time and there might not be another dry session as we had a 3hr break, I took a chance. It paid off..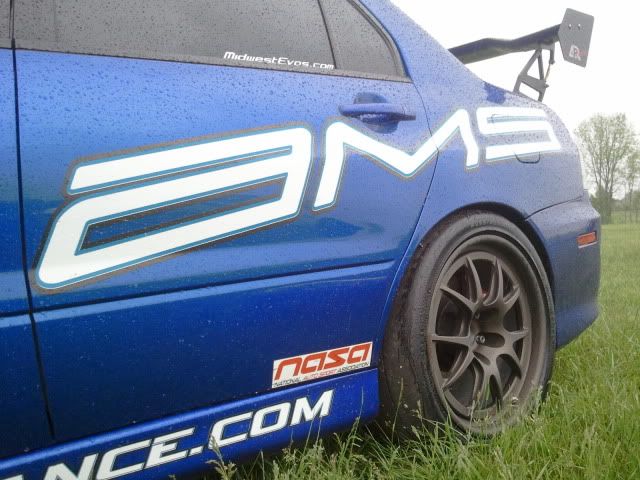 I fired a
1:16.7
and eeked out a
new track record
! Ran just 2 laps that session. The RR came through ok. But the tire I rotated to the LF.... it corded. Now I had corded 2 tires in 2 sessions; both in the LF (Driver's front). I definitely need more camber for this track! The car just isn't setup for this track; as we're concentrating on Mid Ohio for Nationals.
Anyways.... 3 hr break - and the rain held off! I mounted up the new Forgelines (see pic), went out for just 2 laps to try and not punish the new tread too much. Fired a
1:15.7 bettering my previous track record
by a full second and setting the 2nd fastest time in TT out of 41 cars trailing only the highly modified Subaru of TurnInConcepts. I was done for the day (to save the tires). No matter... it rained the rest of the day.