Breaking stuff... it's inevitable. You try to do as much accelerated maintenance as you can, keep everything greased and lubed, buy and use quality parts, use skilled companies for tuning, etc. But shit can, will and does happen.
Besides the above mentioned reasons, there's a few more that'll bite you as well. Like simply being tired or in a hurry. The latter is what bit me this week.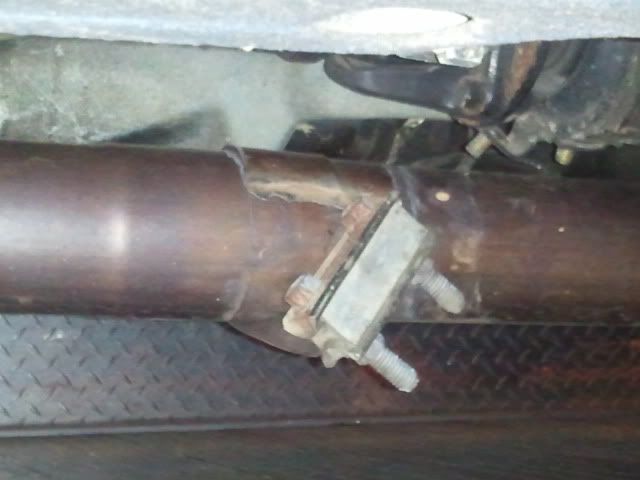 A week of longer days at work and final prep to the car meant my schedule was tight. I had to get the car loaded no later the Wed (don't like to fire the car up late with neighbors and all). So around dusk on Wed I was loading the car and since I removed the front splitter (moving onto Config #2....) I figured I would not need to use the extra 2x12's to load the car. Well, the front didn't scrape, but something else did! The low point in the middle of the car obviously being my exhaust, with a clamp right in the middle. (see pic)
Being I run a Buschur exhaust, I got ahold of them early Thursday morning to find a replacement fitting. With my plans to leave Friday mid-afternoon for the drive to the track we decided to have the part overnighted to my Friday night hotel. So a big thanks to Buschur for working with me and the Holiday Inn Express for (I hope) for accepting and holding my package.