During our 1pm race drivers meeting, they broke the news that everything Sunday would be cancelled due to the forecasted snowstorm (5-7"). They also explained it would be a 2-wave start utilizing only 1 green flag with PTE being buried in the 2nd wave behind all the Spec Miata's (SM). Being that a SM has a throttle restrictor and my PTE Miata did not, I knew that the start would be pretty crazy going into T1.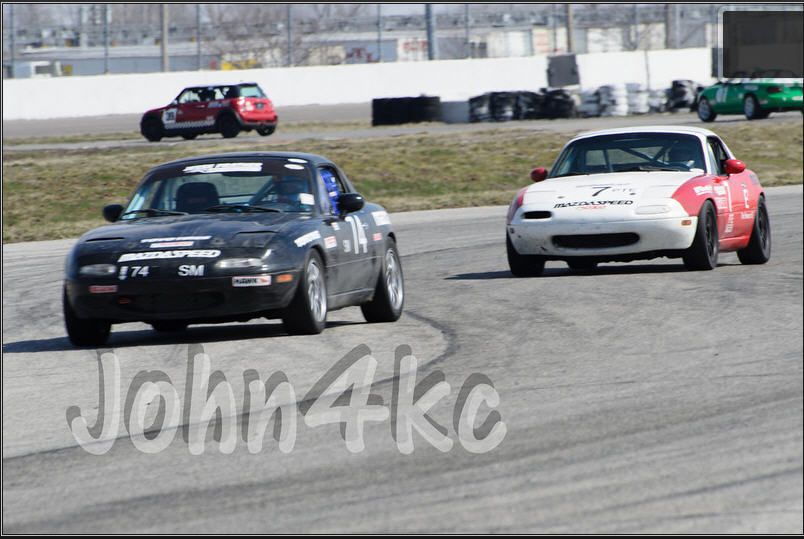 My overall starting position was something like 17th. With Gateway there is a long Nascar front straight after the Nascar 3/4 banking that leads to the S/F line. As with any split start, the 2nd wave was pretty much powering right out of the final turn and full throttle down the entire front straight. This helped me clear a few of the slower SM's on the extreme inside prior to T1. I was up to 11th overall by the 2nd lap! I had an early battle with a SpecE30 that I eventually lost after running wide in T1 that dropped me to 12th after lap 4 with my in-class competition finally starting to fade a bit as I was picking up more speed. Other than that E30, I started picking off cars slowly 1-by-1 and was up to 10th after lap 8 and 8th by lap 13. About this time the race leaders were working past up so that was fun with slower traffic in front and faster traffic behind me to navigate! All went well though. I had a really good battle with Region's Director; Joel. I was faster in spots but he was faster in others. I pulled up even to him a few times, missed a shift once that dropped me back, but eventually got past him on the outside and made the pass stick on lap 19. In all the race lasted 22 laps and I finished
1st in class and 7th overall
(started 17th). As an added bonus I broke the
PTE track record with a 1:14.0
on lap 12.