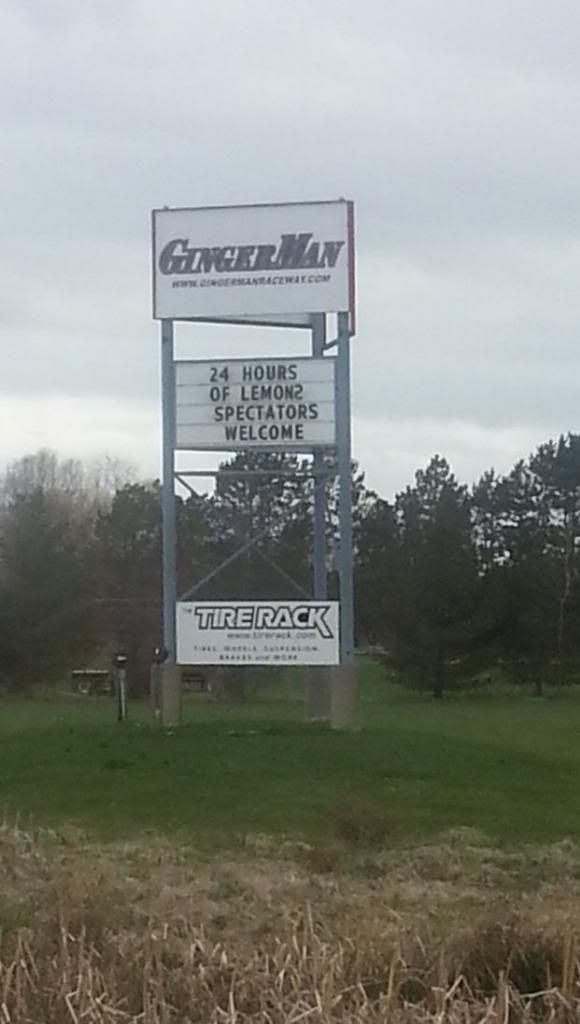 A very cold, overcast and early morning found us in search of the Tech people as we needed to get both our individual gear and the car teched for the race. This was done relatively simply and we continued to prep the car - swapped tires, set pressures, checked oil, installed the radio, cameras, etc. As with any raceday this went down to the wire and our 1st driver (Eric) just barely made it to grid and on track for the start of the 2-day 14.5 hour endurance race.
The start of the race - with 66 cars - was fairly well organized and due to an unlucky starting flag we were pretty deep in the pack. We started clicking off the laps over the next several hours, working with the fast and slow lap traffic and keeping an eye out for the yellows. The car was running well, so our battery install the night before seems to have been the only issue; whew! We stabilized around 16th for awhile after a long double-yellow that included a few cars getting towed in (hey; these $500 cars break!). There's also many that spin or fly widely off-track through awesome bits of standing water (see pic)!
About 2 hours in most of the teams that had not stopped for fuel were doing it now. We were slowly cycling to the front and briefly held on lap 74 before we had to come in to fuel. While nowhere near the top 3-4 cars times, our laptimes were improving as the fuel load burned down and the track emptied out a bit. Stint #2 would be mine!
We fueled up the car and I got behind the wheel and strapped in. Having never driven the car before, and never having driven with the Lemons organization, I wasn't 100% sure what to expect but I did get a few words of advice from the rest of the team including
'drive it like hell'
. I headed out with the main plan to NOT get into trouble, meaning no body-contact as an extended loss of laps is just not worth a position or 2 you might gain.
After Eric's solid stint, I believe I took over the car in 2nd place. I started immediately in some heavy traffic and was pretty pleased with the level of experience everyone was showing on track with regards to traffic management and just overall skillsets. Knowing my stint would be about double the longest I'd ever driven, I radioed in for a check on my pace then settled in and started clicking off laps. Not having a very fast car on the straights, we had to make up our time in the turns, under braking and with good traffic management skills. I learned to work with traffic and sometimes you follow the car and not the 'line' to get through quicker when there's a logjam of 3-10 cars altogether. Below are some highlights from my first hour on Saturday....