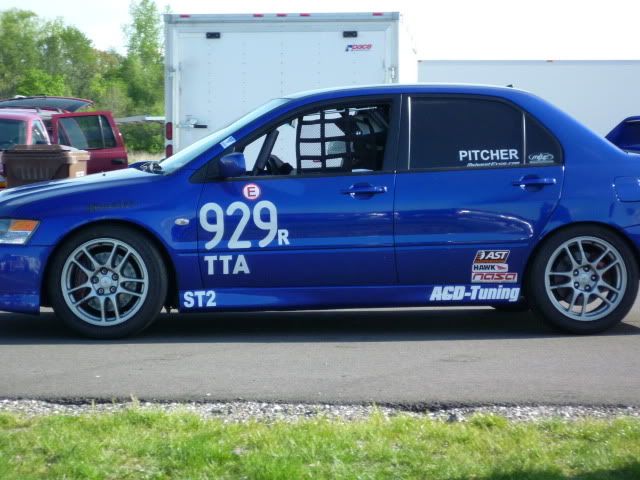 So Saturday and the Evo....
I went out for the warmup session on street tires as I did not have time to change tires as we were first up! I tossed down a very eventful and sideways filled
1:38x
on a cold green track in about 50 degree weather on 5yr old Dunlops on my 3rd lap and pulled in. lol. It was fun; and the car ran for the first time since the cage!
Qualifying was about 2 hours later. On my 1st hotlap I seen the debris flag at T6 - and quickly found the insanely huge OIL SPILL directly on-line from T6 through T10 when I actually passed said spiller on the backstraight still limping the car around.
IDIOT
. About 5 awesome oil-soaked drifts later for myself, about 6 offs witnessed from other cars and 1 car sitting a full 180 degrees backwards track-center - and just 3 laps - they tossed checker to end quals early. I had just a
1:40x.
I had a 4 hr gap until the race. I worked on cleaning up some of the wiring from the gauges and getting my oil temp gauge hooked back up (Thx to Boostin Performance for the wiring fix). I had time to update some of the decals on the car including adding ST2 designations for the race. More to come...
The vid is from Qualifying. Not too entirely eventful as most of the sliding action was in front me.