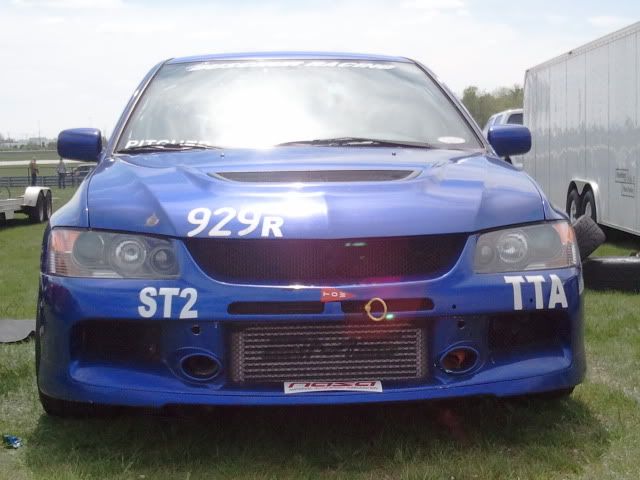 After the brake caliper failure on Saturday, I switched the car to run Time Trials on Sunday to do some testing with the brake setup. As for changes, I swapped out the leaking RF caliper with another that I had (always bring extras) and did a quick bleed of the brakes. The odd thing was besides being a bit low of brake fluid, there really wasn't any air bubbles or darker fluid that came out of the system.
Having no time in TT from the previous day, I gridded in the rear and clawed my way through the traffic to find a descent lap while trying to be nice. I ended up with a respectable 1:34x, similar to what I was running in the race the previous day - on the same setup.
Session #2 I bolted up my better 255 A6's that were leftover from 2011 and laid down a personal best
1:31.9
, running just 3 quick laps. Everything felt great including the brakes and things seemed to be back to normal overall although the car was rotating more that usual with the more aggressive ACD map from
ACD-Tuning
. By this time it was lunch, so I popped out the front brakepads to check for wear assuming I'd need to drop in a new set. But, they did not look any worse so I left them in.
Session #3 I was lined up behind another Evo and we turned some good fun laps, nearly identical laps all right around the 1:32x range until he had an OFF and we both came in. Overall, no better.
Session #4 I stayed out and ran 6 hard laps; which coincidentally was all the further I got in the race! These turned out to be my best laps as I was pushing the car pretty hard - a bit too hard probably for the tires - through some of the tighter turns. I had multiple laps in the 1:31x range.
At the end of the day, we ended up 2nd out of 5 cars in class; besting 2 TTS Evo's with front/rear aero and set a personal best of
1:31.666
. Keep in mind we were actually running in legal TTA form (but in TTS for competition) and this would have set a new TTA lap record with that time. Huge thanks to Buschur Racing, AMSOIL and ACD-Tuning for their 2012 support.
The video below is from S4; enjoy: